Last Updated on June 1, 2021 by HAVENIST MEDIA
Last Updated on July 18, 2019
The inevitable changes in attitudes, technology, and communication will lead to new communities of remote workers – that was the central thesis of the book The Digital Nomad released in 1997. Fast forward to today and the global community has become a reality.
In the 22 years since 1997, 4.3 billion people have come online with another 3.2 billion to add to that list by 2030. Plus, 50% of the workforce will be remote by 2020.
Technology is making our world smaller. With only an Internet connection and a video chat, you can meet face-to-face with anyone in the world instantaneously.
And while the advent of automobiles and jet engines conveniently shortened our time to get from Point A to Point B, technology is removing the need to be in one place at all.
What does this mean?
There is no longer a reason to stay in one place.
Which is why six months after launching this blog, I've decided to quit my six-figure tech job and become a full time blogger and digital nomad.
On June 14, 2019, I officially put in my resignation and will start traveling the world on August 14, 2019.
I'm writing this article because I want to put my money where my mouth is and document my full blogging journey as I learn along the way. We've discussed the first 90 days, but there's one more step to add to the mix:
Day 1: When we first started together six months ago, it was all about launching your WordPress blog effectively with the best tools, SEO, etc.
Ninety days in We shifted to leveraging high-end consulting to hit $10k/month in blog revenue with working full-time.
Six months in Theirs a new third step to this process: Quit your job in six months with passive income from affiliate marketing and online courses.
My goal is to help get you there. Okay, on to the guide!
To get started, this digital nomad guide will dive into what a digital nomad is, why you would choose to be one, the pros and cons of this mobile lifestyle, and other tips to help you leave your full-time job and get started on your journey.
Let's get started.
Table of Contents
What is a Digital Nomad?
A digital nomad is a person who is completely location independent and uses technology to perform their job, whether with a formal company, freelance clients, or while running their own business.
This lifestyle was made possible through the recent advancements in global Internet access, smartphone accessibility, and voice over internet protocol (VoIP) to connect with people anywhere in the world.
Digital nomads work remotely from their homes, coffee shops, co-working spaces — basically from any place that has Wifi. The affinity with this lifestyle stems from the fact that you can travel to different locations and work wherever you want and still make a decent, passive income — all you need is a reliable internet connection.
According to a survey by Buffer, up to 90% of remote workers plan on working remotely for the rest of their careers.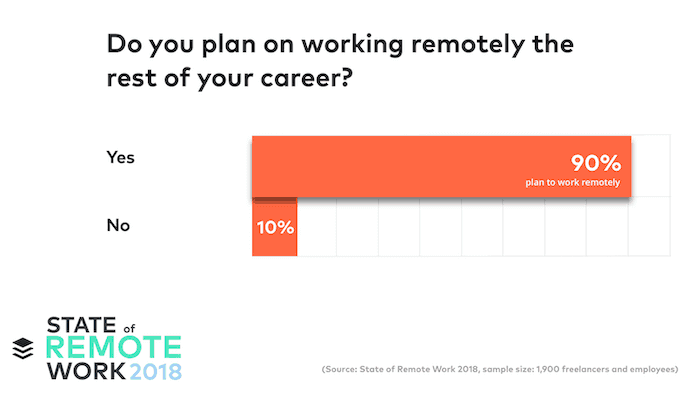 The truth is that many working professionals are getting fed up with their monotonous, 9-to-5 jobs, their over-the-shoulder bosses, and unrealistic revenue goals.
And oftentimes monotony, bad bosses, and stressful expectations aren't the only reasons we leave our jobs.
For me, it was often things outside of my control: the structure of the department, certain teams unfairly more resourced than others, office politics, and a select few who make up for the mediocrity of others.
If the idea of bypassing this entire system sounds interesting to you, let's discuss the steps to shift your traditional work-life into this remote lifestyle.
How Do I Become a Digital Nomad?
1. Eliminate your debt and unnecessary expenses.
You don't want to start your nomadic lifestyle with tons of superfluous debt hanging over your head from your previous Candy Crush Addiction – I've seen it first hand (thanks mom, now take your hands off your phone). Also, before you leave, it's never a good idea to splurge on things that you don't need or can do without.
For instance, while you're on the road, you can easily buy a travel backpack and pack seven days of clothes, shoes, a laptop, camera, and phone, moving from one hotel, Airbnb, or hostel to the next.
And as a consultant, affiliate marketer, freelancer or remote worker, it's smart to limit your expenses as much as possible. HBO was pretty great for a while, but the $15 price tag just for Pretty Little Liars might not be worth it (okay maybe it is).
2. Find a way to generate passive income.
It goes without saying that while on the road, you will need a way to make some money to support your new nomadic lifestyle.
There are so many ways to make money online, but the goal is not to just make money online but find a way to make steady income so that you don't have to work 40 hours/week, but more like 10-15. It's imperative to be able to rely on a steady income so that you can travel without worrying over your next paycheck.
If you're just starting out, this has to be a mix of consulting and passive income. As you grow your blog traffic and passive income sources, you can scale down your hands on consulting, but until then, you're going to need income to travel.
You should also make sure to rent out any debt obligations like car leases, auto insurance, and anything that you won't use during your travels.
3. Get travel insurance.
Emergencies and sudden accidents can and do find a way to permeate your new-found nomadic lifestyle. That's why it is important to get a solid travel health insurance that will help you out in all the places you intend to visit. Whether you're traveling somewhere in Africa, or Europe including Spain, Germany, or Paris, France, or going all the way to East Asian countries like Vietnam, or popular cities like Bangkok, Thailand, your insurance should cover you anywhere you travel.
Make sure that your travel insurance covers any emergencies or health-related incidents that are likely to arise. This is one concern that you can't overlook because there are so many countries in the world that won't provide you with the type of healthcare you are used to, so it is a smart idea to get covered before you hit the road. I'm no insurance expert, so use your best judgment here.
4. Sign up for credit monitoring services
Find a good credit service that will help you keep track of your funds back home. Make sure to sign up for a credit card monitoring service that will send out regular alerts in case someone forges your identity. You can even consider freezing your credit while you are traveling across the world.
Apart from signing up for credit monitoring services, you might also want to sign up for an international credit card since your American card is going to charge you a hefty fee when you use it in other countries.
5. Join a digital nomad community
Now that you have forsaken your conventional 9-to-5 job for a much more exciting life, it is time to connect with like-minded people. For that, you need to join online digital nomad communities, including apps like Nomad List, forums, or social media groups to make it easy to connect with fellow digital nomads.
Since you are new to this nomadic lifestyle, these communities help you find like-minded people and expats that understand the best countries to visit, low-cost neighborhoods to stay in, and levels of crime, quality of life. Most importantly, Wifi.
When you find one of the best digital nomad cities like Chiang Mai, Budapest, or Krakow, this wanderlust will force you out of your comfort zone. Next, take on part-time or remote jobs in anything from freelancing on Upwork or Fiverr, to becoming a graphic designer or blogger.
Joining digital nomad communities mean you will always have the support of individuals in this realm of digital nomadism. You can also use it to learn new skills and scale up your online business by building a reliable network.
6. Get your phone unlocked
An unlocked phone is the one that is not locked to a specific carrier and can be used with any SIM card with any network carrier in the world. It especially comes in handy when you are traveling all across the globe and exploring one country after the other.
An unlocked phone also allows you to choose a better plan to suit your needs vis-à-vis your current plan, according to the country you are currently in.
If you are through with these things, you are a couple of steps closer to your quest to become a digital nomad. But what next? Sorry to tell you, but you are still not ready to be an actual digital nomad.
Starting your life as a digital nomad is a different ball game altogether than preparing to be one.
The more prepared you are and the more attention you pay to even the smallest of the details, the fewer barricades you will face in your digital nomad lifestyle experience.
5 Important Tips To Help You Succeed As A Digital Nomad
1. Find a Work-Life Balance.
As simple as it sounds, but striking a balance between your work and social life takes a lot of time when you are new to this digital nomadic lifestyle. It is easy for the lines to get blurred and putting in more hours than healthy on your new online venture.
Even though working in a snazzy, quaint cafe in Guatemala sounds like a better deal than daily grind in a cubicle in California, but if you are always stuck in front of your laptop screen, then you are not truly enjoying your new digital nomad life.
Don't let your work take over your travel adventures or your social life. Not only is it unhealthy but also ends up alienating you from the rest of the world.
The best way to go about it is by noting down the tasks you need to complete in a day. Stick to that schedule and if you think it will be any help, then turn your phone off, stay away from social media while you are working, and set a time limit for each task.
When you choose to live as a digital nomad, it is important to find a work-life balance, otherwise, it would turn to be even more stressful than the conventional job that you left behind.

2. Make a budget.
When you choose to live the life of a digital nomad, your budget becomes your holy book, quite literally.
It is very tempting to splurge on luxury hotels and get carried away with a shopping spree when you visit all those exotic locations in the world. However, if you create a budget beforehand, you would know how far you can stretch your spendings without running out of money.
To create a successful and reliable budget, calculate all the expenses that you need to make while traveling to each destination, the cost of living, recreational activities, cost of working, and more. Make sure to evaluate whether you will be able to live comfortably and bear such experiences in case you fail to earn a consistent salary for a while.
3. Be prepared to face logistical problems.
Even if you are working remotely or as a freelancer, you need to be available online so that your client or employer can connect with you without any trouble.
Finding consistent wifi in exotic locations like jungles in Sri Lanka can be a pain. Setting up online meetings and conference calls is another setback that you might face. The difference between time-zones is even worse. However, you can't use these hindrances as an excuse for missing an online conference or failing to meet a deadline.
To avoid disappointing your client and such drastic scenarios, invest in a reliable mobile wifi hotspot device. You can also wonder investing in a cell phone signal booster (also known as amplifier or repeater) that will help you detect and amplify your cellular reception.
4. Develop skills to work remotely.
Anyone who is heading out and yearning to make a living as a digital nomad needs to develop some serious skill that they can capitalize on.
Without any online skill to earn passive income, you'd be left to rely on working and getting paid locally. This will seriously impinge on your plans and won't help you earn the amount you need to travel the world. For instance, the job that you do in Bali is not going to pay you similar to what you were used to in the United States.
To keep getting paid in Dollars, you need to develop some great skills that you can use to work online. If you think you can make money writing, then nurture your writing skills and search Google for online writing jobs on several job boards online or by networking through social media platforms.
5. Avoid currency exchange desk at Airports, use ATMs instead
Foreign currency exchange desks at Airports charge a hefty currency exchange fees. That's why it's better to avoid this option and draw cash from the ATMs. You will still have to pay a fee, but it will be much lower than the one you would have to pay at the currency exchange desk at Airports.
Start your best digital nomad life: Summary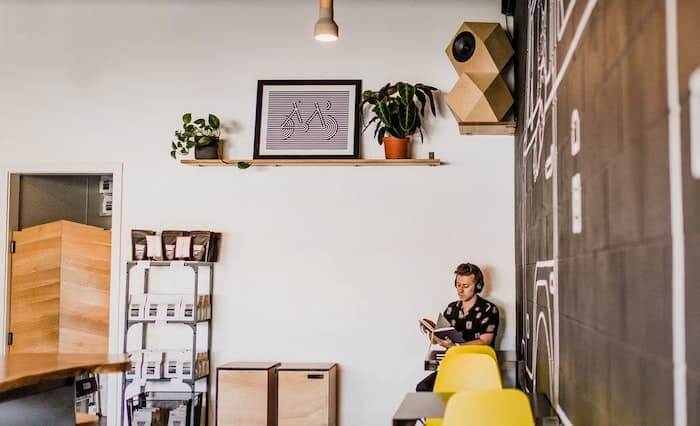 The life of a digital nomad is rewarding. There are no bosses, office politics, or long commutes to deal with.
However, there are challenges.
Complete location independence brings other challenges: isolation, loneliness, the fact that you can never build a home base or quite get grounded in one place for too long. Digital nomads who have been on the road for a long time often come back to the friendly and homey locations they're used to after a period of time.
The truth is, digital nomadism is not the answer to any problems. Whether you're chilling in Chiang Mai, Budapest, or any other major international city, life goes on.
Living as a digital nomad is not all sunshine and rainbows; it has its fair share of struggles. However, the advantage and the exhilaration that you face while on the road is well worth the effort.
The key is to find your footing, make a cozy place called home, and simply enjoy every moment of your life.
Because life is too short to care about a single job.